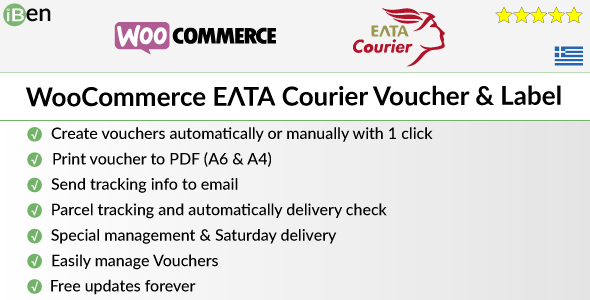 With the WooCommerce ELTA Courier Voucher plugin, you can create Vouchers and print them to PDF. Voucher generation and PDF creation are created and communicated in real-time with the ELTA Courier Porta Porta.
WooCommerce ELTA Courier Voucher is designed and implemented under the real conditions and needs of my business. It's a tool that will really save you time, minimize any mistakes, and of course, streamline your online shop ordering process.
Current version: 19/08/2021 – v1.8.1
Administrator capabilities
Creating a Voucher (SYDETA)
NOTE: This plugin requires login details from ELTA courier and are specified in the plugin settings
NOTE 2: The plugin and the ability to communicate with the ELTA servers require the outgoing door 9003 to be enabled.